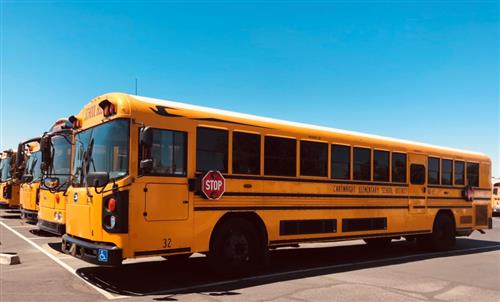 Transportation

We are thrilled to announce that we are using a brand new 84-passenger electric bus which is the only one in the entire state of Arizona!

It's our honor and privilege to transport the wonderful students who reside in our neighborhoods to and from our schools. We are here to help ease the stress of parents on how their children will get to school but we also need your help in providing the best customer service. Please check with your child's school about the designated stops and times for students who reside in the established bus areas.

Alex Mada Director of Transportation

Alejandro "Alex" Mada is a proud Native Arizonan. He was raised in Downtown Phoenix and attended Phoenix Elementary School District (Adeline Gray, Ann Ott, and Herrera), Phoenix Union High School District (Central), and Arizona State University. He currently holds a Bachelor's Degree from Arizona State University and a Master's Degree from the University of Phoenix. Prior to attending college, Mr. Mada served in the United States Army. Mr. Mada was stationed overseas and in the Southwest United States. Mr. Mada began his education career immediately after graduating from Arizona State. Mr. Mada has served the West Valley Community as a coach, teacher, and school administrator for 20 years.